Public opinion
Formosa should turn to ... produce toothpick!
17-07-2016 - 13:03 - 702 lượt xem
Formosa Ha Tinh Steel production probably should not because of pollution too, should move to produce toothpick - to provincial officials have something to suck on.
Through countless business fluctuations in Formosa Ha Tinh, where officials only see "impregnated" then im thim softly. Only when the news was compensated $ 500 million, the council established to deploy rapidly discussed.
The first is that a full apparatus of friends from the provinces, districts and communes with full professional sectors, especially resource revenue - the environment, do not know anything about building a pipeline Formosa "massive" stab straight into the sea.
Then the giant apparatus that also did not know anything about the discharge, so until a central coastal strip submerged in disaster, people screaming, the press voiced the local authorities ... knew.
His only vice president of innocence regained Posted Forum advises people "peace of mind eating fish, swimming Vung Ang".
After the shock of destruction of the marine environment, back to the problem of waste landfilled Formosa farms upstream in the river, near the dam. Again, this discovery is ... reporters. Reporters after the discovery of the case have reached more than 50km to take advantage of Ha Tinh city, knocking authorities to report.
Meanwhile, Ha Tinh new interdisciplinary group established to examine.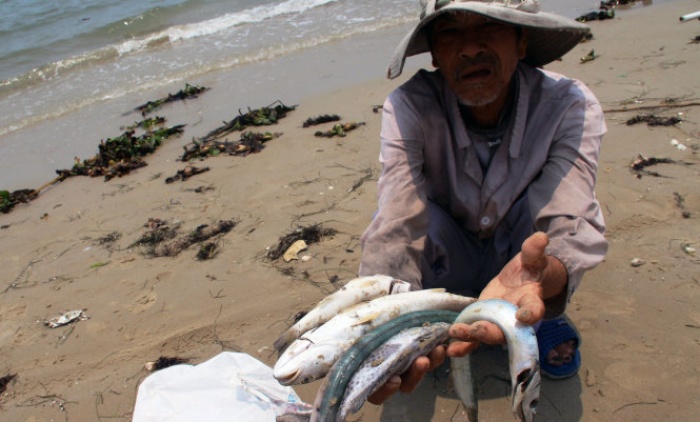 Then add up the new wild garbage dump Formosa also at the park, illegal discharge drains out. This case is also detected by people, reported.
Absolutely on the media do not see any photos of Ha Tinh leaders inspected the polluted waters, to reassure people. Only next Ha Tinh Newspaper innocent post "clean sea, the boat had set sail".
Conduct of staff Ha Tinh different from thinking "in place of the hardest workers" of many senior leaders such as Nguyen Thi Kim Ngan (Can Tho bridge collapse) or Mr. Dinh La Thang (in crash car mats catastrophic Sao Vietnam Sapa).
In a disaster, the appearance of the head, the person responsible will make people feel more warm, without feeling abandoned. Like a general substitute, not to know he does not kill the pirates, but just the presence or his screams and rushes back to help the three spiritual forces.
The head, sometimes meaning such tremendous spirit!
A huge disaster.
The livelihoods of millions of people affected for years.
One problem the country must "roll up their sleeves" to solve.
But absolutely not seen an official of Ha Tinh Province large and small has claimed responsibility. But also do not see this province is one discipline, criticism, blame is for anyone.
Everyone is welcome to Ha Tinh have young orchestra leaders of the country's goods. But through this new show, children may not be synonymous with enthusiasm, new thinking and creativity. Children without enterprising, dare to take responsibility, no one rushes to carry, is not to do!
So, we blame Formosa too much blame forget myself, forget the question: The authorities, officials Formosa Ha Tinh province where the disaster caused?
Save Cards
(Petrotimes.vn)
Send comment
A PHP Error was encountered
Severity: Notice
Message: Undefined variable: home_id
Filename: news/view.php
Line Number: 111